Multi-spindle turning and milling centers with highest precision and cycle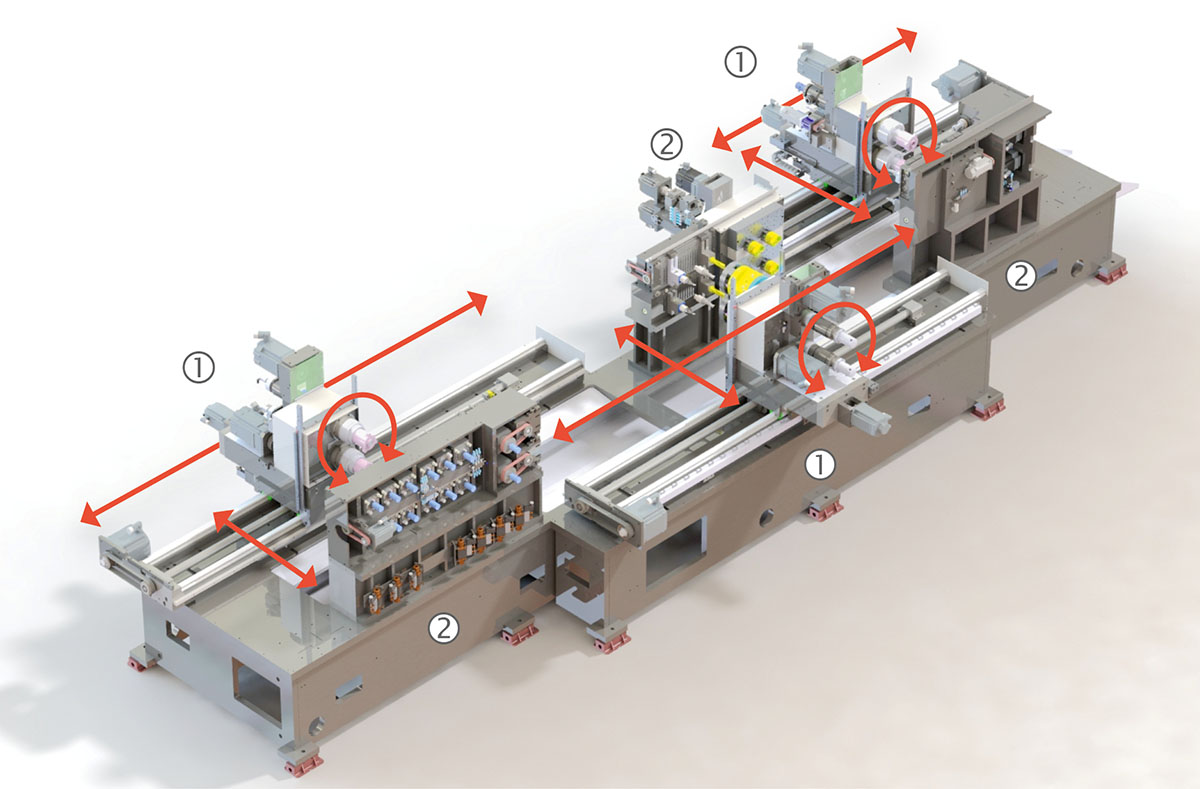 The compact machine concept is characterized by its modular design. The user can choose from the following main variants:
Single-spindle turning and milling center: Compact and precise. Optionally with additional spindle for doubling productivity.
Parallel turning and milling center: Offers simultaneous machining on two spindles using the same loading and unloading systems.
Double-spindle turning and milling center: For your machining tasks in large series with individually adapted complete solutions. Strengthens your competitiveness by front and rear machining of the workpiece. Highest productivity density via additional spindles.
With our linear turning centers, we can significantly increase the versatile use of machine tools. Use the high degree of freedom of the system through innovative horizontal spindle positioning for more flexible and economical production. With this design, where the complete movement is performed on the workpiece side, all machining technologies can be used:
turn
milling
grinding
stagger
roll
forms
hard turning
gear hobbing
push
Measurement processes can be optimally integrated.
The basic principle of the HK-CON machines is based on the sole movement of the workpiece. The machine picks up the parts from the load and guides them along the stationary, driven tools.
In HK-CON machines, all tools are clamped in the Capo or HSK-T system and are taken up directly into the tool carriers, which in turn are statically fixed to the solid machine bed. This enables the small distance between tool tip and cutting surface to avoid vibrations that can occur during machining.
The design of the machines makes it possible to easily design the machine with multiple spindles.
Correction slides on the tool side allow fixings, even on multi-spindle machines, with an accuracy of 0.006 mm.
The future-oriented design of the machines is particularly suitable for the automatic loading and unloading of workpieces in a simple and inexpensive way.

Three double synchronous spindles with C-position oriented double transfer of the workpieces.
Simultaneous machining of up to 6 workpieces.
Flexible concept – the tool design is freely configurable by …
Fixed tools: all known tool connections can be integrated.
driven tools: specific adaptation to the machining task – high dynamics through direct tool drive or powerful belt drive.
Simple and fast retooling – ergonomically designed work area.
Best view of the process: machining process can be viewed continuously from loading to unloading.
Compact machine design: short chip-to-chip times with high cutting forces.
Contact
Find out for yourself about our comprehensive range of services and contact us at any time for a personal consultation or an individual offer.