extremely short production times
6-spindle transfer lathe as double-spindle machine with 3 operations and 2 direct transfers
By means of 2 turning spindles arranged one above the other per operation, 2 workpieces are processed simultaneously. The transfer of the parts between the 3 tool blocks is fully automated and by direct transfers without releasing the workpiece.
Thus, a total of 6 spindles are always engaged simultaneously.
Of course, the system can be automated by us using a wide variety of handling systems, right through to loading from bulk material and depositing in your blisters after washing, measuring and marking.
Further information on workpieces
Technical details
Complete machining in 3 set-ups via X, Z and C axes
Integrated spindle drives from 8.9 to 34.2 kW as standard
Bar machining up to Ø 48 mm as standard (optional)
Up to 15 tools per spindle as standard (optionally with tool drive)
Y-axes on tool side (optional)
Axis speeds up to 60 m/min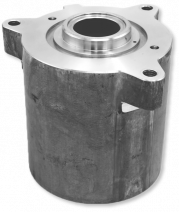 The machining process belongs to the component, not to the standard machine concept – all handling and machining scenarios are conceivable here.
The expansion stage of the systems can be optionally executed with single spindles or with fewer operations.
The housings are placed by the operator on the workpiece carriers of the chain conveyor according to the centering plates. Up to 30 housings can be can be deposited on the conveyor belt.
The housings are transported directly and singly from the chain conveyor to the fenced Loading axis guided.
Alternatively, loading via industrial robot is possible.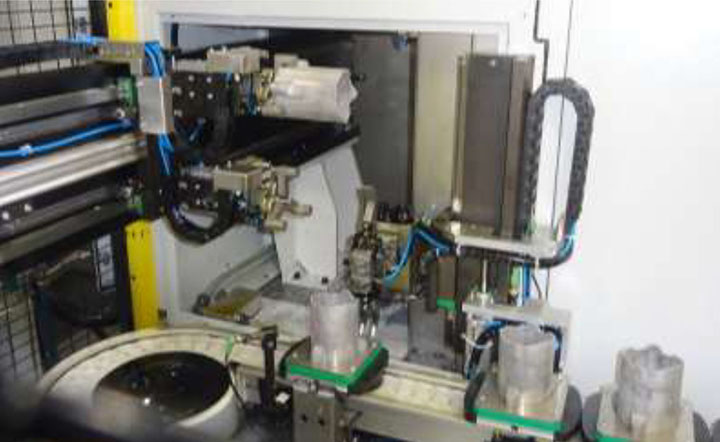 A pneumatic swivel gripper transfers two housings one after the other to the loading axis.
The unloaded workpiece carriers are conveyed out of the fence, ready for reloading.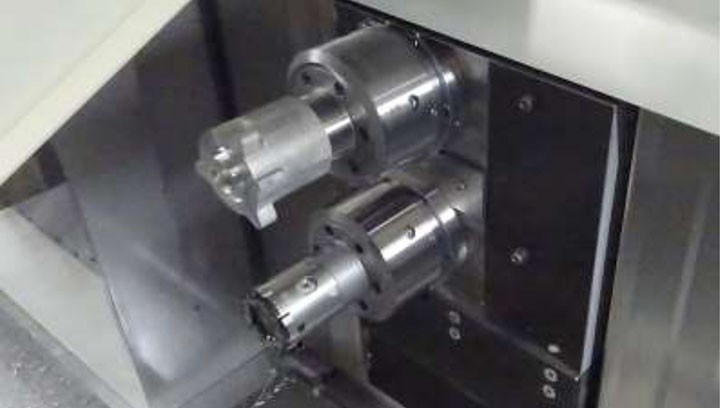 The unmachined housings are now transferred from the loading axis to the clamping mandrels of P1.
Nine machining steps are carried out on P1.
After passing the housings to the OP20 pull-down chucks, five machining operations are performed on OP20.
Before passing on to OP30, the center bores are first flushed out.
After the transfer to the mandrels, eight machining steps are carried out on OP30.
In the machine the housings were machined on both sides.
At the end, the OP3o main spindles transfer the finished housings to the unloading axis.
The unloading axis transports the housings out of the machine to transfer them to the robot.
The robot has a double gripper:
a 3-finger centric gripper
and a two-finger parallel gripper
The finished parts are placed in the blow-off station by the robot.
The blown-off housings are placed in parallel by the robot in the measuring station, where they are fixed and measured.
The robot then places the measured housings in the marking station and marks them with laser according to the measurement result.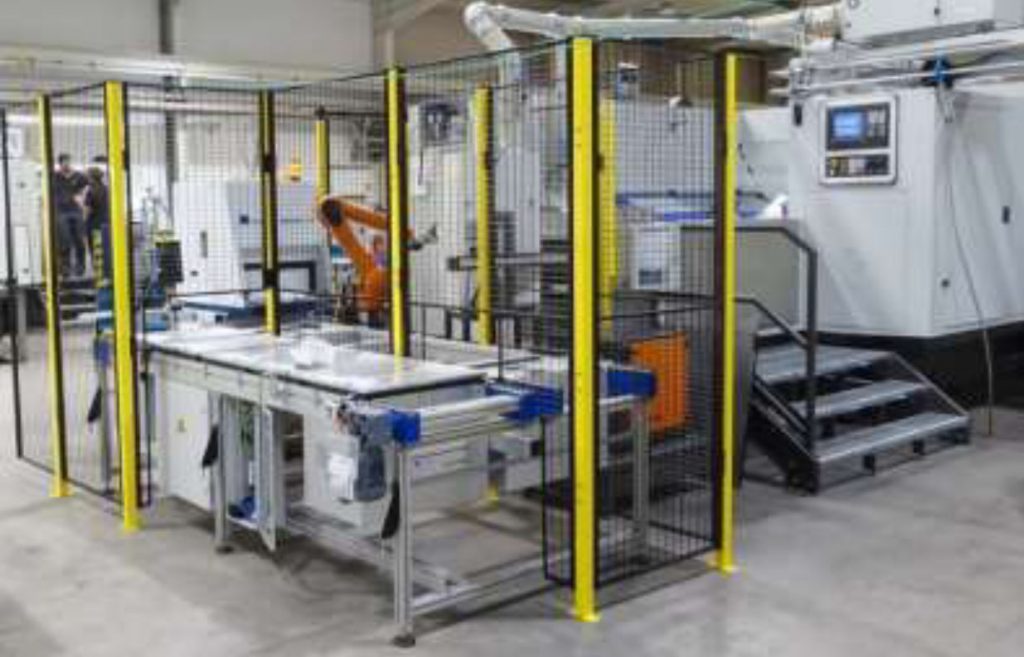 Finally, the robot places the finished and marked housings on the pallet table, which transports the finished parts out of the OP30 housing for removal.
Contact
Find out for yourself about our comprehensive range of services and contact us at any time for a personal consultation or an individual offer.