Complete machining of differential gear housings on one machine
• incl. internal machining
• 2 clamping situations
• Cycle time: 94.2 seconds
The housings are machined simultaneously by two separately operating main spindles on 6 driven and up to 12 stationary tools.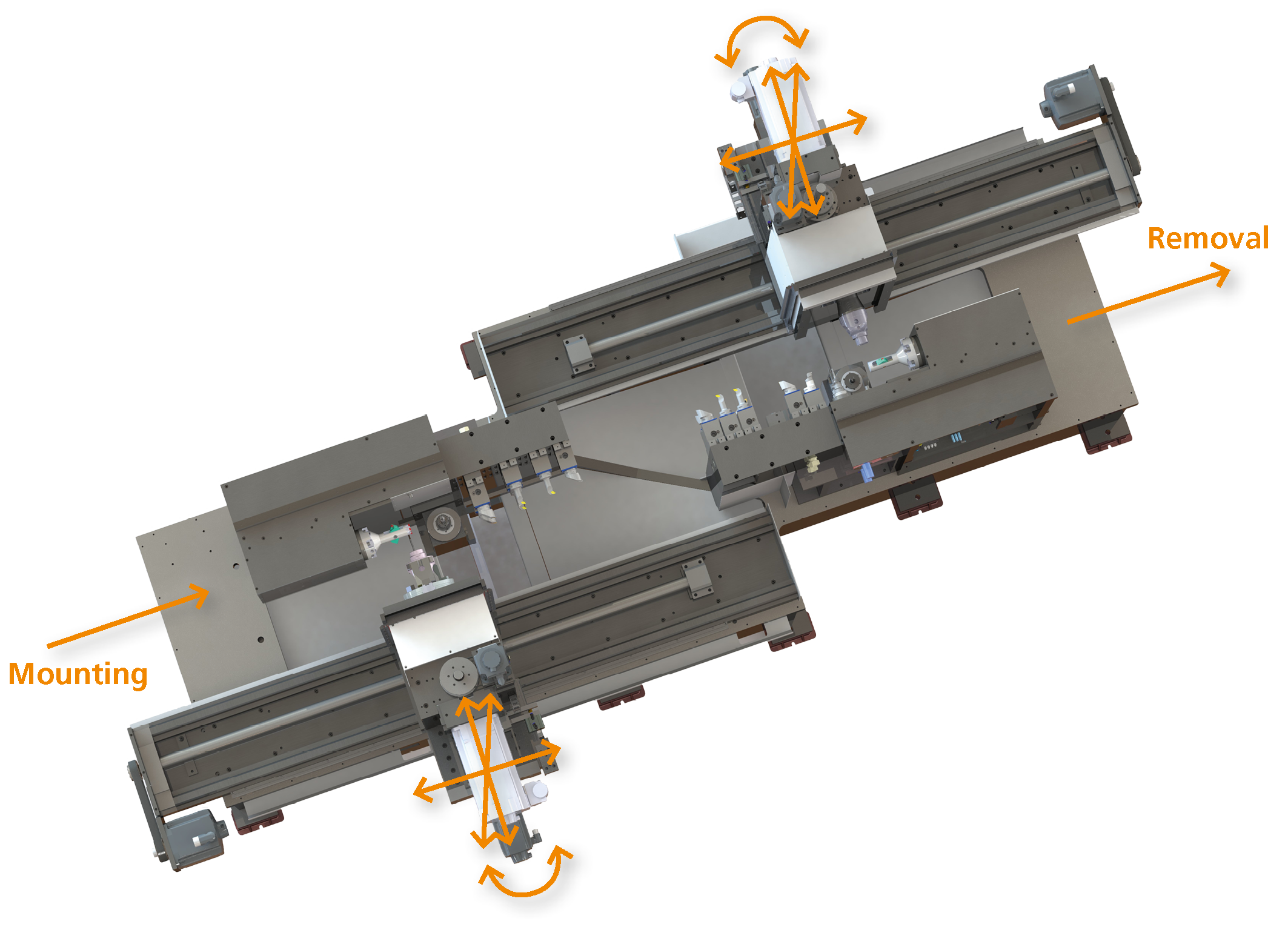 The machine concept:
Complete and complex machining on only one machine bed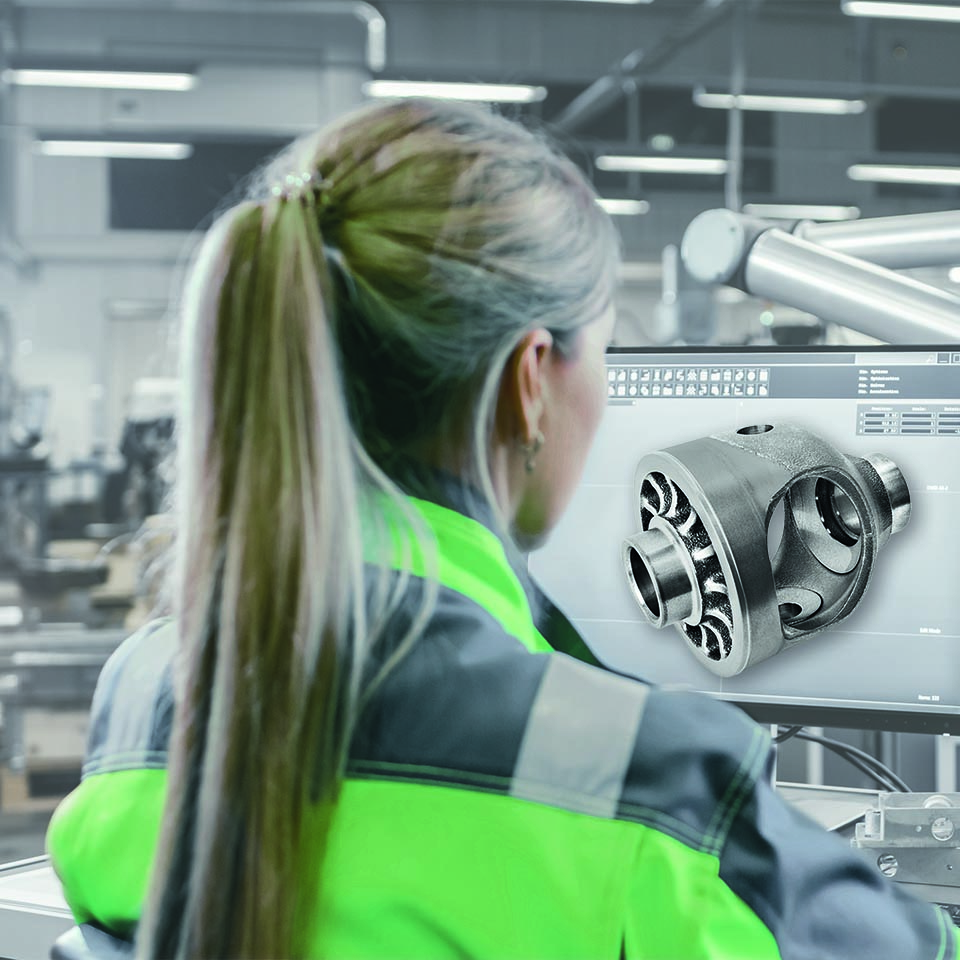 Application – suitable for …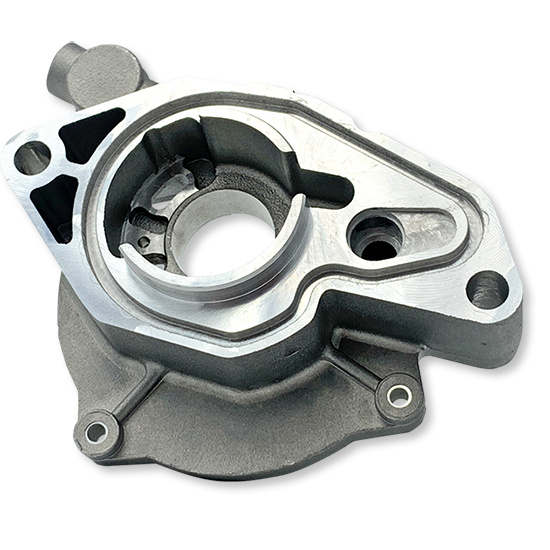 Equipping the plant
The loading conveyor equipped with pallets with a capacity of 20 blanks conveys the workpieces to the machine loading station.
Grippers transfer the workpieces to the clamping device of the first of 2 machining stations.
colored green = processed areas
Transfer from processing station OP10 to processing station OP20
Work steps
1  Calottes: roughing
2  Bolt hole: pre-drill and deburr, inside and outside
3  Outside diameter and flat surfaces: roughing
4  Inner diameter: roughing
5  Inner diameter: sizing
6  Outer diameter and flat surface: finish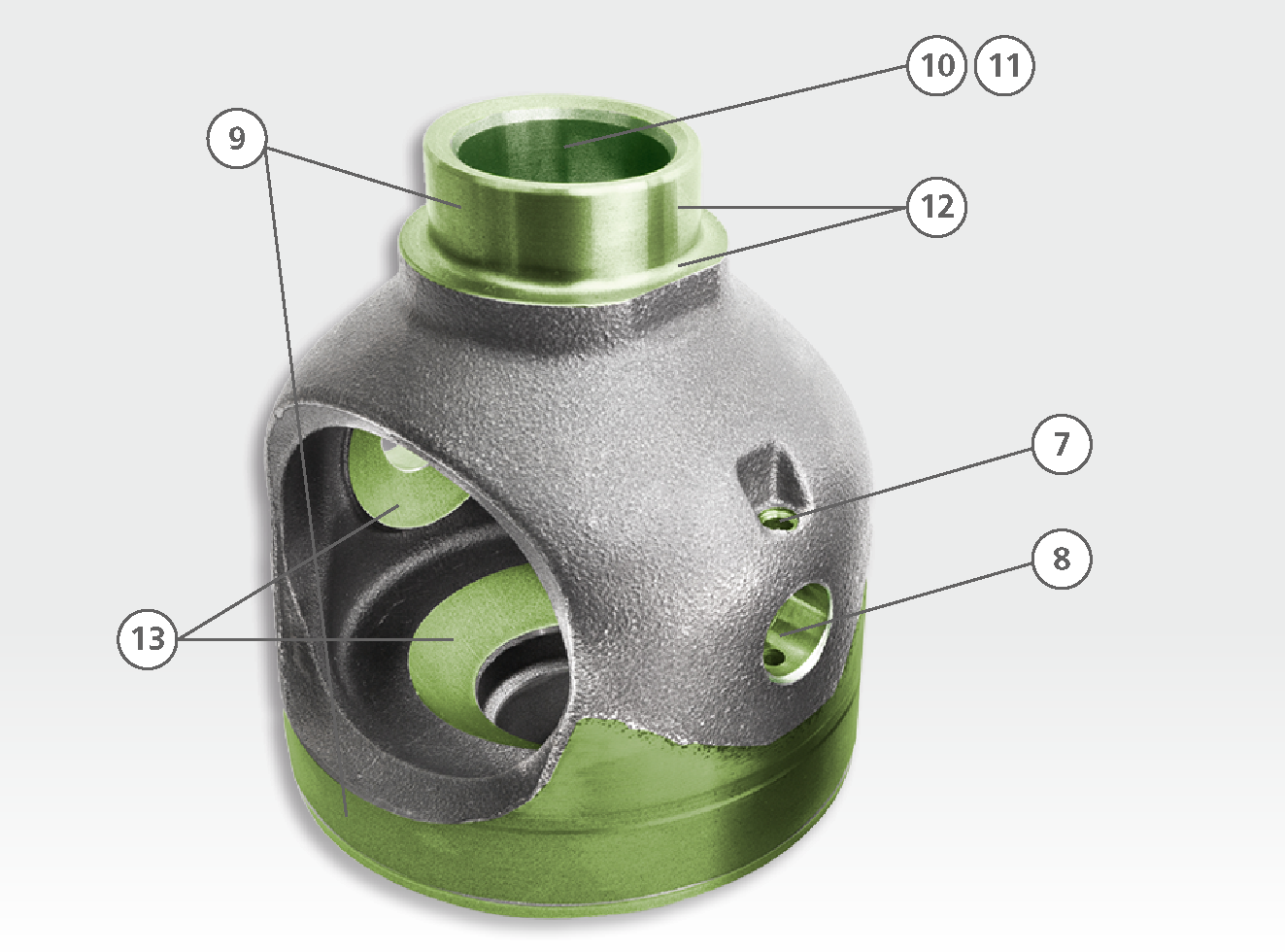 7  Pin bore: centering and reaming
8  Bolt hole: reaming
9  Outside diameter and flat surfaces: roughing
10 Inner diameter: roughing
11 Inner diameter: sizing
12 Outer diameter and flat surfaces: finish
13 Calottes: sizing
Differential gear housings place the highest demands on a machine tool:
Rotary machining of a wide range of internal and external surfaces with high accuracies
Precise insertion of holes
Machining of spherical inner surfaces, fits and contours
Optimum use of the actuating tool: the workpiece is moved to the actuating tools via the main spindles, which can be moved in X, Y and Z, with the tools plunging horizontally radially into the differential gear housing

he entire machining process, including internal machining of the differential housings, is carried out by just one machine with only 2 clamping situations
100% control and removal
All finished differential gear housings are fed to a measuring machine via a drain station after machining. The results of the 100 % measurement are used by the control system for automatic tool correction.
If the measurement results meet the specifications, the workpieces are removed via an accumulation conveyor in combination with a robot arm.
| | |
| --- | --- |
| Equipment | |
| 2 driven actuating tools | 50 Nm / 20,3 kW / 4500 min-1 |
| 2 driven vertical radial drilling units | 16 Nm / 8,9 kW / 6000 min-1 |
| 2 driven axial drilling units | 3 Nm / 0,82 kW / 3000 min-1 |
| 2 main spindles | |
| Torque | 125 Nm |
| Power | 34,2 kW |
| Rotations | 3000 min-1 |
| Peripherie | |
| Loading conveyor with individual pallets for position-oriented insertion into the machine | |
| Blow-off unit | |
| Measuring station for 100% measurement | |
| Unloading cell with industrial robot | |
| Unloading dust belt for finished parts | |
| Machine dimension | |
| Machine tool | 4850 mm x 2870 mm |
| Machine tool incl. periphery | 8000 mm x 4000 mm |