Milling
• x-axis: 4500 mm
• y-axis: 800 mm
• z-axis: 800 mm
Turning
• Diameter: 230 mm
• Length: 380 mm
Welding
• Assemblies
Surface grinding
• Length: 3000 mm
• Width: 500 mm
• Height: 380 mm
Cylindrical grinding
• Diameter: 220 mm
• Length: 100 mm
Complementary processes with partners:
Surface treatments (painting, burnishing …)
Heat treatments (case hardening, nitriding …)

Quality assurance:

Roughness measurement
Contour measuring machine
3D coordinate measuring machine
ISO 9001 certification
Materials
The following materials are processed: steel, stainless steel, cast iron, aluminium, non-ferrous alloys, plastic.
Delivery time
An extensive stock of semi-finished steel products is available for time-critical orders.
Production data
We manufacture according to sample, sketch, drawing or step model.
Contact HK-CON Contract Manufacturing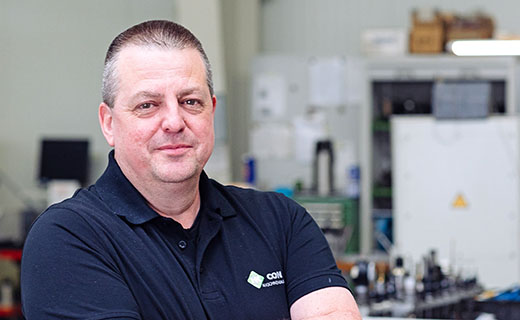 Steffen Salfer
Application technology/work preparation Contract manufacturing
Tel.: ++49 (0) 661-25062-111
Further products and services:
Machining systems/machines
Production cells
Automation systems
Application programming
Electrical planning
Switch cabinet construction
CAD constructions
Order/contract production
Device and component assembly, special assemblies, individual assemblies
Service on machine tools
Training, product support