Production cell with 6 main spindles for flange drivers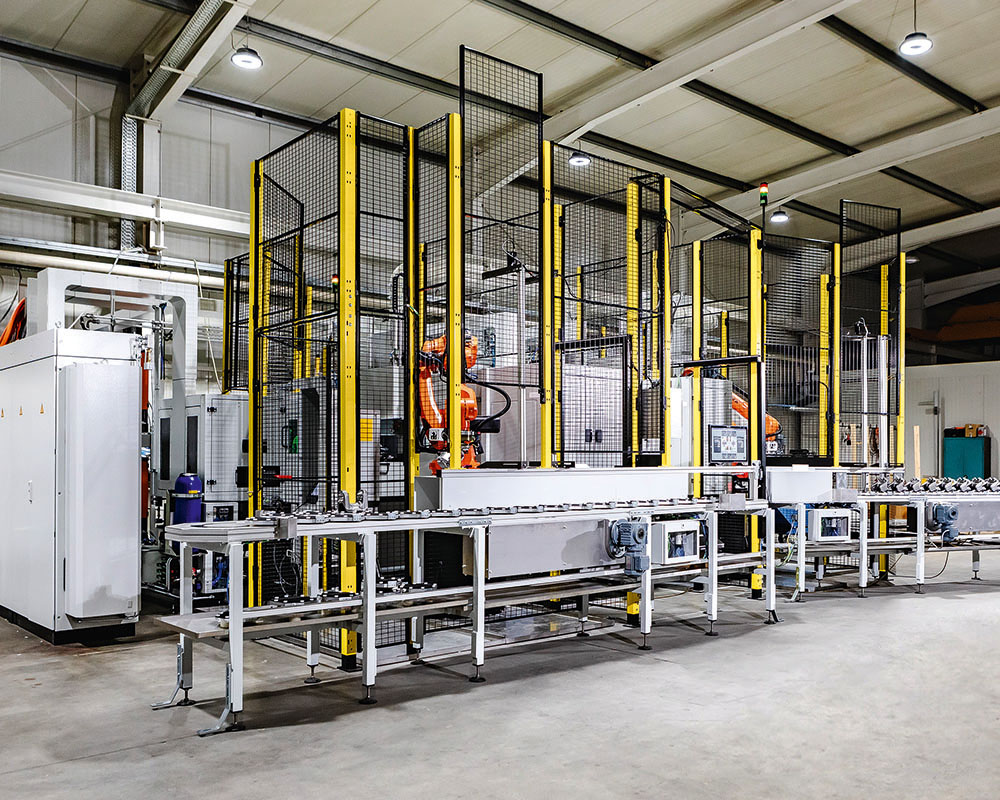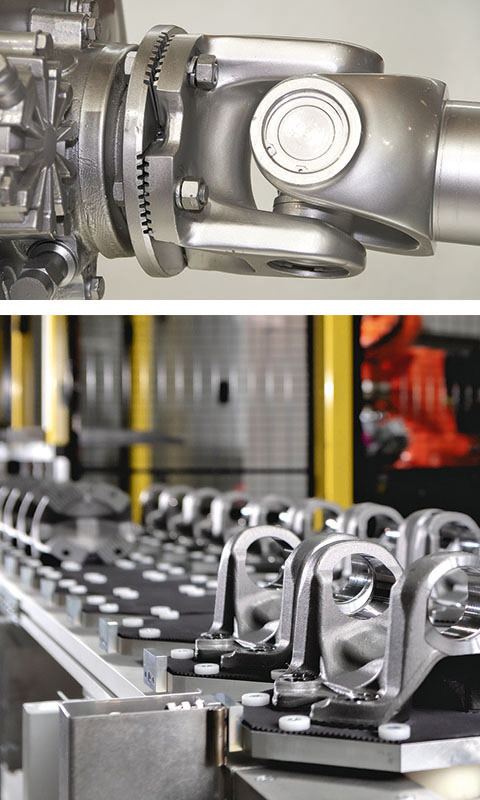 The concept: productivity gain through simultaneous machining of different flanges on one machine bed
The manufacturing cell has an x-axis carrier as its base, on which two machine tables are guided. The tables with their hydraulic clamping elements move the workpiece independently of each other to the positions of the main spindles. These, designed as motor spindles, are arranged in pairs opposite each other and result in 3 machining stations.
At both ends of the x-axis, the raw and finished parts are inserted into/from the clamping devices of the tables. For the greatest possible flexibility in production, the precision machining centre has 4 tool magazines with 12 places each for the external main spindles. All common manufacturing processes are possible: milling, turning, drilling, countersinking, thread cutting, reaming, spindling and many more.
Application – suitable for:
Drive shafts
Fork flanges
End machining of shafts, tubes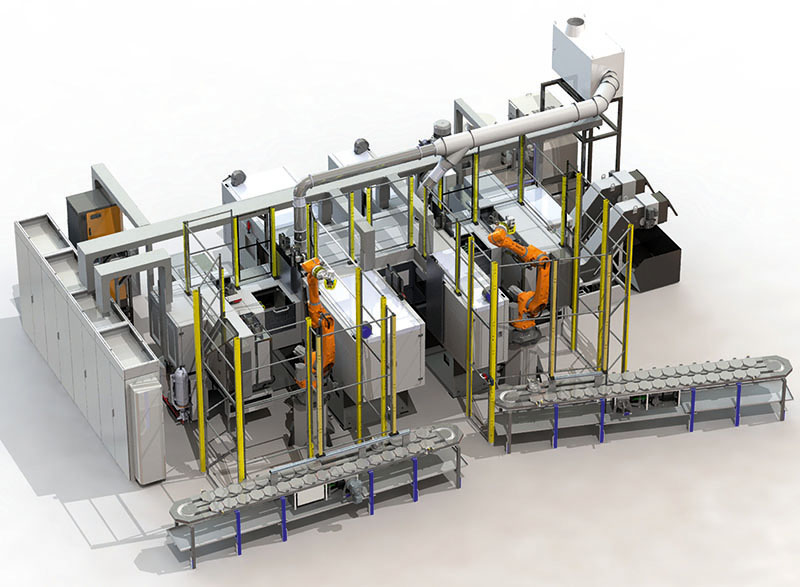 4 tool storage units with 12 places each ensure flexibility and speed.
Simultaneous/parallel machining of two different workpieces.
Production of all types of the workpiece "flange driver" on one machine – without set-up.
See the production cell with 6 main spindles for flange drivers in action
Functionality of the HK-CON sliding table
High cycle rate: loading and unloading
The system is loaded and unloaded via two independent stations:
One robot is assigned to each of the two work tables.
The loading and unloading of the hydraulic clamping devices on the two work tables is carried out by the robots at staggered intervals.
Up to 4 main spindles are engaged at the same time.
Conveyor belts for loading and unloading serve as workpiece storage.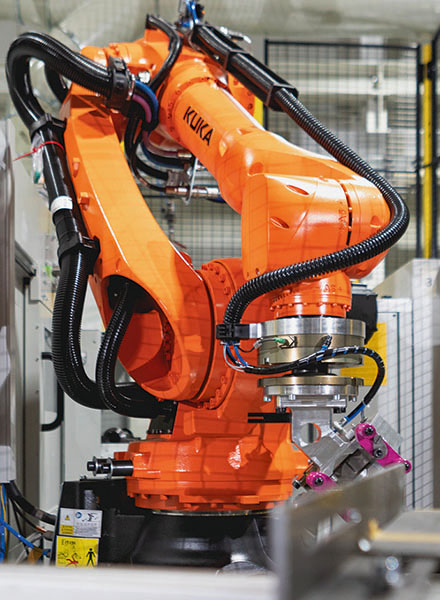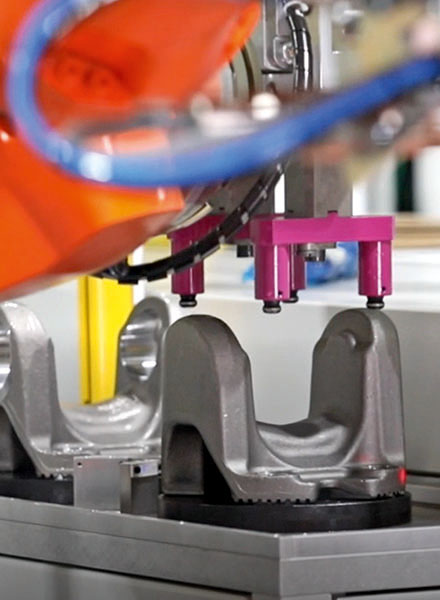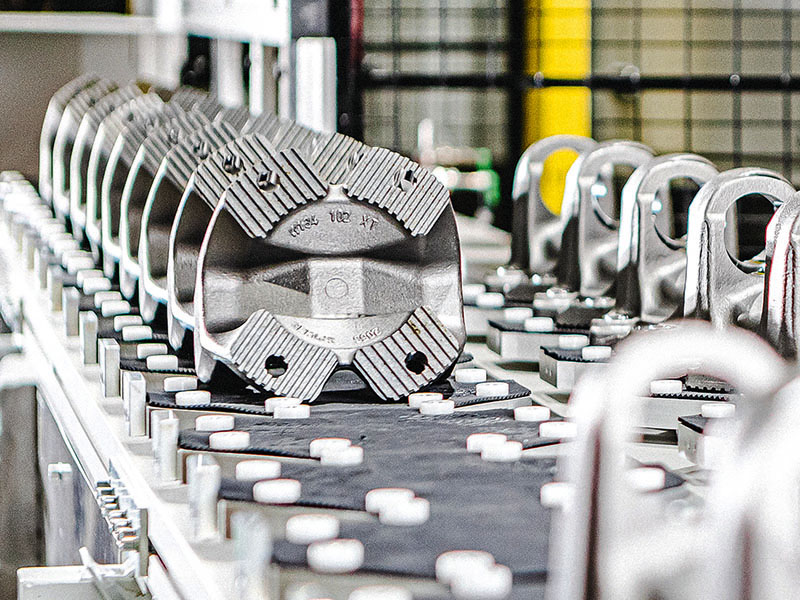 Loading/unloading conveyor belt
Variable work table with hydraulic clamping elements
The manufacturing cell has three machining stations, each with opposing main spindles.
The advantages of the machine concept become apparent: the simultaneous machining of 2 flange drivers on their two cheeks.
Loading/unloading
The clamping device picks up the workpiece to be machined.
Station 1
The machine simultaneously drills two holes "into the solid" (eye holes) on both cheeks of the blank – the blank does not yet have any holes. In addition, both outer plane surfaces are mirrored.
Station 2
The contours as well as an additional groove are precisely introduced into both eye bores with facing slides.
Station 3
The inner diameters of the two bores are reamed.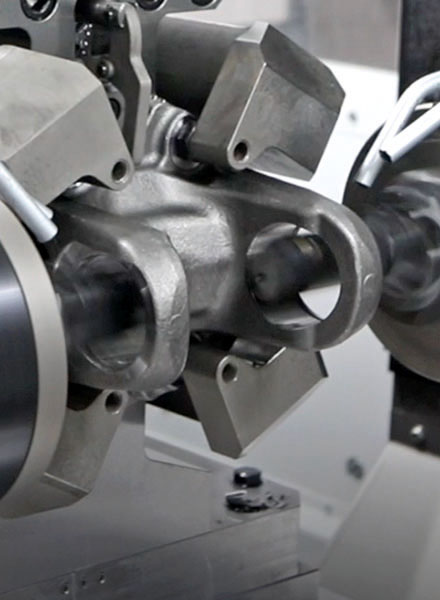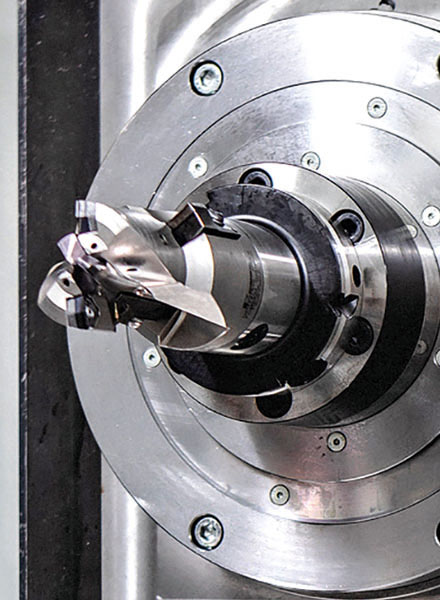 Simultaneous machining of both eye holes
Production of different workpieces – during operation
Four 12-cavity tool magazines exchange tools with the external main spindles via changing devices in order to produce different workpieces during operation.
The machining of the two eye bores is carried out without tool change with the attachment tools of the facing slide. Diameters from 42 mm to 65 mm can be machined continuously.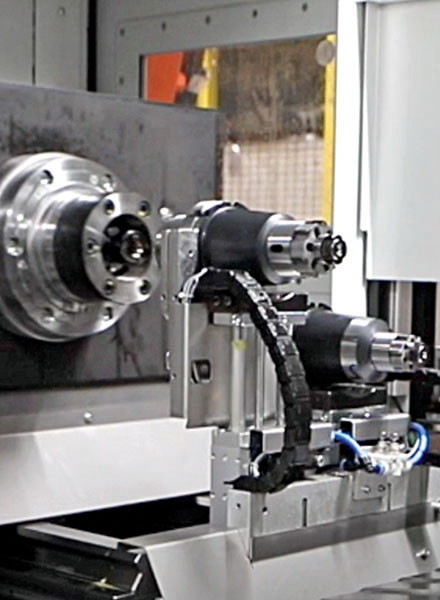 Standard equipment
4 driven tools (HSK 100)
2 driven facing slide tools
4 tool magazines with 12 places each
Chip conveyor
Coolant filter system
Extraction system
Camera monitoring for position-oriented insertion of the blanks
Special clamping device with servo-controlled clamping force adjustment and
servo-regulated clamping jaw control
Air system control
2 robots
2 unloading belts
Special equipment
Rotary table
NC swivel head
Y-axis on main spindle side
Machine dimensions
Machine tool incl. periphery: 9100 mm x 10900 mm